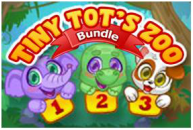 The game features two puzzle modes for learning shape recognition and matching and is great for educational purposes or just for fun!
The
jigsaw mode
allows you to make the puzzles easy enough for a toddler or more difficult for preschoolers or older children by choosing between 6, 8, and 10 pieces. And when the jigsaw puzzles are complete, you can watch the fun as children are rewarded with animations, animal sounds and bubble popping.
The fun
matching mode
helps improve visual perception, knowledge of shapes & develop fine motor skills by having the child drag and drop puzzle pieces to match their shadows. This mode features 10 uniquely themed, colorful backdrops, cute animations and realistic animal sounds. It also has a random mode to mix up the animals and backdrops for extended play.
If your child loves animals and puzzles, this is the game for them!
10 puzzles with 2 different puzzle types.
Colorful backgrounds, animations and sounds.
40 different animals from around the globe.
Adjustable puzzle difficulty, with a choice of 6, 8 or 10 pieces.
Positive encouragement.
Easy for kids to use and control.
Fun to learn and play!
---
---